ECB

East Coast Bullbars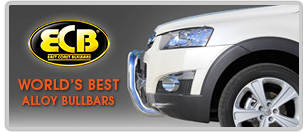 ECB is a leading manufacturer of alloy frontal protection which is designed and manufactured right here in Australia. Unmatched in strength, all ECB products are made from structural grade hi tensile alloy which never rusts.
This means that it consistently maintains optimal frontal protection for your vehicle.
Additional benefits of ECB include:
Lightweight: Reduces Tyre Wear, Saves On Fuel And Suspension Upgrades
Lifetime Warranty
ADR & Air Bag Compliant
New Vehicle Warranty Compatible
With all of these features and benefits, it is easy to see why ECB can proudly boast that they make
the WORLD'S BEST ALLOY BULLBARS.
We supply bullbars to fit the following car manufacturers